Commercial Real Estate Auction, Johnson City Texas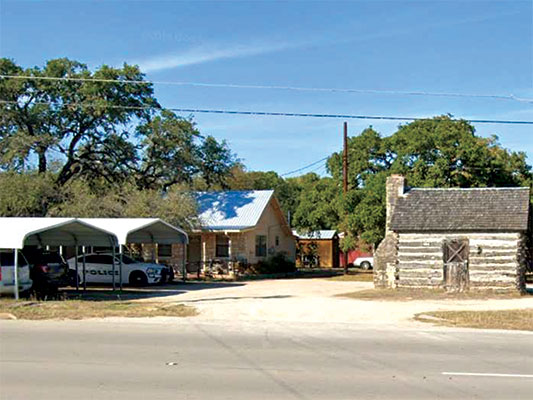 SPR Auctions will be holding an auction of prime commercial real estate located in and owned by the City of Johnson City Texas. The property up for auction is known as 406 West Main Street, Blanco County Appraisal District PID# 2850.
This property features prime highway frontage on what is now considered the Texas Wine Trail in the well known Texas Hill Country. It is located in the City of Johnson City just west of highway 281 at 406 West Main Street (Highway 290) heading toward Fredericksburg. The property includes two small buildings and on lot parking. It is currently occupied by the city Police Department though will be vacated prior to transfer of ownership.
The auction will be held online only with the City Council reserving the full right to review any or all bids/offers following the end of auction and to determine the award of any potential purchase contract. The Seller reserves the right to reject any or all bids at any time prior to the execution of any real estate sales contract.
Unit 1: 618 +/- sq. ft. commercial building currently occupied by the city police department
*

Diagram

*
Unit 2: 272 +/- sq. ft. log framed building currently not occupied
IMPORTANT UPDATE 03/07/2022: The City Council for The City of Johnson City has discussed land use / zoning concerns of potential purchasers for this property. The City Council thereby fully expects and encourages any purchaser to request rezoning to a residential or commercial zoning designation. It is the City Attorney's opinion that the City Council could rezone the property to either zoning designation and therefore has provided this notice.
"Rezoning of Property Upon Sale: Zoning of a property in the City is made pursuant to the City's Zoning Ordinance and State Law. A property owner may request a property be rezoned at any time. Requests for rezoning are ultimately decided by the City Council. A rezoning request may be granted so long as a request is in accordance with the City's Zoning Ordinance and State Law. This property is presently zoned "Public Facilities District", with uses of a property specified for public purposes. Following purchase, a buyer is entitled to submit for consideration by the City Council a request for rezoning to allow for a different use, such as a commercial or residential use." 
Notice of Restriction: This property is posted for sale as one whole tract. This tract consists of two deeds: a general warranty deed and a gift deed. The General Warranty Deed includes the Police Department building, adjacent parking, and land described in the field notes for that deed. The Gift Deed includes the building (log cabin) described as a museum and the land upon which it sits, as described in field notes. This portion of the property was gifted to the City with a 'reversionary clause'. This clause states that the property "shall revert unconditionally to Grantor, her heirs, successors and assigns" should the real property and improvements (that is, the museum / log cabin building) no longer be used for a museum. Notice is provided that sale of this portion of the whole property is being conducted subject to this restriction, the reversionary interest.
For additional clarification of the above listed deed restriction please see the following.
Seller stated that the City has never declared / registered the log building as a historic structure and that the building is NOT a historic structure according to the Texas Historical Commission. Once sold, the new property owner would be able to do whatever they deem necessary to the log building.
(Deposit checks for unsuccessfully bidders will be sent out for return by standard mail on the 5th business day following the end of auction.)
Type: Online-Only Auction
Date(s): 02/14/2022 – 03/09/2022, Bidding Ends March 9th / 11AM CST (Soft Close)
Preview Date/Time: By Appointment Only, Monday & Tuesday February  21st & 22nd, 10AM – 2PM
Location: 406 West Main Street, Johnson City, TX 78636
Buyer Premium: None
Disclaimer: All items are sold AS IS, WHERE IS. Item may have unknown deficiencies, parts may be missing or broken and repairs may be required. THE CONDITION OF THIS PROPERTY IS NOT WARRANTED.